Change is inevitable; things continue to evolve, and when things become stagnant, it loses interest.  Some are comfortable in what they are familiar with, while others want a little change, and others decide to go completely in a different direction.
This is something that occurs no matter who, nor what, the situation is.  Everything evolves, and sometimes continues to.  From how we pay for groceries, to how we speak to one another.  Evolution never stops, and that is true in the world of automotive.
A staple in the auto industry, namely that in the four-wheel drive industry, has been the 4-Wheel Jamboree.  Thousands upon thousands of people would flock to these events, seeing what products are available for their own vehicles, or look at the 4×4's they wish they had.  Over the years, it evolved from showing off what's available for one's 4×4 truck or Jeep, to actually buying them at the show to put on their vehicle.  The competition between manufacturers was seen every corner, and in every walkway.
Competitions evolved as well, as the mud bog soon went from just having the everyday truck take on a quagmire to higher horsepower machines, and even the still-popular monster trucks.  Those monsters then would go to crush cars, then go into timed passes, and eventually into side-by-side racing followed by what people remember today, freestyle.
By today's standards, the 4-Wheel Jamboree has evolved.  But, the question in reality is has it gone forwards, or backwards?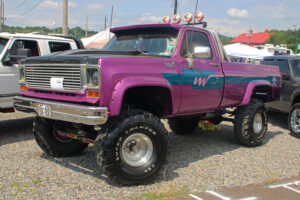 That topic has been debated for a long while, and a few years ago Bonnier Corporation decided to try and give a new bit of life to the jamboree.  A new group and a new vision came in hoping to breathe in some freshness to a historic series.  There was one major issue that this new vision would ultimately have, that being the coronavirus.  In an instant, the entire thinking for the jamboree no longer was will fans come out to the show.  Now, the focus was could they even have a show, as so many gatherings were cancelled through fear and uncertainty.
Still, they pressed on, and the two jamborees in 2020 would take place.  But, not without some restrictions and changes beyond the main attractions.
Both shows had to follow protocols for health and wellness.  Fans were encouraged to mask up for the Bloomsburg Jamboree in Bloomsburg, PA, but were not officially mandated.  But in buildings there were limited amounts of spectators, and hand sanitizer was as readily available as a bottle of water.  At the fall jamboree in Indianapolis, Indiana, masks were required at all times while on property at the Indiana State Fairgrounds.  Not only that, but every fan that came to the gate, along with all competitors, vendors, and employees, had to pass a health screening and get a temperature reading.
It just felt different, and that was just entering both properties.
What made those jamborees even more different was the fact the long-standard headlining monster trucks now shared the main event status with their half-size counterpart, the mega truck.  These blown, injected, and powerful machines were half the size of the monsters, coming in anywhere from 5,000 to 6500 pounds, but had engines that were unlimited in how much of a supercharger to run.  Engines eclipsing 2000 horsepower with a huge blower were even more powerful than the monster trucks, which had a limit of a 10% blower drive.
They were becoming all the craze, and the jamboree felt this was the time to bring them in for competition, both on the obstacle course and into the mud pit.  Considering they brought in some of the biggest names in the industry, including the iconic Grave Digger pilot, Dennis Anderson, for one of these events, they were not willing to skimp on the talent.
So, beginning in 2020, the jamboree seemed to begin the shift, the evolution, to include the mega truck craze, starting with around 16 trucks at each event.  In 2021, that number for each event increased even more.
But, the issue that seemed to be coming up, especially a year ago, is that the true die-hard jamboree fan felt they were getting away from what made the jamboree such an attraction.  Whether a young kid or a grandfather, the monster trucks were what fans enjoyed seeing.  In 2020, both jamborees had the big horsepower, and big tire machines.  But last season, only one jamboree had them in attendance.
This year, the A&A Auto Stores 4-Wheel Jamboree in Bloomsburg, Pennsylvania, welcomed the monster trucks back, something many fans were gracious to see.  Bonnier brought in some fresh faces, as the Lethal Threat Stomper driven by Dalton Van Syock was making it's jamboree debut.  Roger Gauger's team brought their two-truck operation, with Ben Oetjen taking the wheel of the Bootlegger Ford, while Gauger himself had the control of the County Mounty Chevrolet.  They could be considered the "Smokey and the Bandit" team since they were playing Eastbound and Down in the pits, probably with Jerry Reed smiling from above.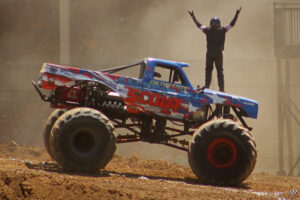 Making his Bloomsburg debut, least in the jamboree, was also Colton Kiser in the American Scout.  It was his Bloomsburg jamboree debut, as last fall he was competing at the Bloomsburg Fair.  However, that was in his then-mini American Scout.  Now, he's since sold that chassis, and is in the cockpit of a full-size version, an 80's Chevy Square Body.
The final man in Bloomsburg had a legacy with him, a hall of fame legacy to be exact.  Allen Pezo came out with his two-truck operation, coming to Bloomsburg for the first time since 2006, with his two cat-like trucks, Predator and Pouncer.  But, Pezo was having the duty of driving both trucks, something Bloomsburg actually had never seen for an entire weekend.
The jamboree evolved to include the monsters, and now evolved to include the big and powerful mega trucks, but unlike years past, the mega trucks were the leaders.  The monsters, felt almost as a side act.
Everything has just a very different, and maybe unique, feeling to the jamboree now.  Over the last several years, maybe becoming stagnant was too comfortable, or being fearful of change could possibly not draw in the crowd.  That said, the typical weather for early July didn't hinder the crowd from coming in on the usual big day of Saturday.
Still, it had a different feeling.  No early afternoon big show, giving the crowd a chance to get under the shade, and no real obstacles to utilize.
Bloomsburg now has an infield dirt track, with plenty of infield space that can be made into a decent freestyle course.  It felt like the track was hardly used, or even thought out, and maybe that took away a lot of the aspects fans are usually accustomed to for a jamboree.  At the same time, with what now became the main attraction had exactly what they needed.  Fans still got to have the mud bog, now back where it had been for several years although moved down due to the dirt track entranceway.  The burnout contest returned to Sunday afternoon, still bringing out a big lineup of trucks and drivers willing to sacrifice a pair of tires just to win a new set.
There was familiarity to the jamboree, especially after having a year off due to prior commitment, but also some newness.  It is more of the evolution of what the jamboree was and has now become.
It is still a celebration of the four-wheel drive industry, with show trucks lifted to the skies, or lowered to the ground.  Some had tires the height of a pre-teen child, while others had rims so large an infant could fit in.  Paint ranged from highly detailed in every area, to letting the well-worn patina show it's beauty.  Ford, Dodge, Chevy, Toyota, and so many others all represented.
So where does the jamboree go from here?  Do they continue to make the mega trucks the main event, or do they try to bring in more monsters?  Do they stick with their two biggest shows of the year, or does a new location, or even a familiar location, get a chance to welcome the 4×4 family?
It's hard to say, especially when expenses for both vehicles and just to get to the show is costly.  It could happen should travel expenses, food, and other items go down.
Until then, the two jamborees that still exist will still give fans what they want, a taste of every kind of 4×4 they could want.  So, get out to Indianapolis, Indiana, from September 16-18 and see what the jamboree is all about.